We call ourselves, 'Team Rev', and we mean it. This is our defining value as a business and it's a culture that we live and breathe. If you follow us on social media, then this won't be news to you! We're a bunch of people with different outlooks on life, varying ages and skills but we're focused on one objective for our clients – produce great content and coverage which will help grow the brand. We firmly believe that none of us is a strong as all of us and it's this team approach that leads to our gold standard results.
Our countryside offices in Bloxham provide welcome relief to the fast-paced, high-pressure nature of the work that we do. There's nothing like the smell of a freshly spread field to calm the mind!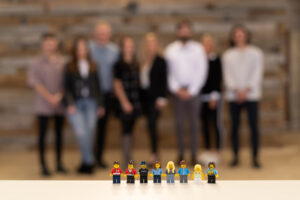 Tiny Team Rev
We can't not give these little guys a mention. Our alter egos, Tiny Team Rev, can usually be found drinking, partying and generally living the high-life whilst we're busy working. Keep an eye out for their latest antics on our socials and particularly at franchising events!
And, in case you're interested…
Our founders, Sally Anne Butters and Lucy Archer, recognised a need for a dedicated franchise PR agency that truly understands the nature of the new media landscape and, crucially, the relationship between franchisor and franchisees. In 2015, Rev PR was born. And the rest, as they say, is history.
Our sister companies, Fishman PR in Chicago and Fishman Canada, offer similar services to ours. An extended part of Team Rev, we share best practice and new developments in the PR profession.